Children & Teen Ministries
Nursery
Who |
When | Sunday morning and evening worship services
Where | Downstairs
Sunday School
Who | All children PK-7th grade (visitors welcome!)
When | Following Sunday morning service until 11:45a
Where | Downstairs
Catechism
with Pastor Rick
Who | 8th-12th grade
When | Following Sunday morning service until 11:45a
Where | Downstairs
GEMS
See what great love the Father has lavished on us, that we should be called children of God! And that is what we are! — 1 John 3:1
Who | Girls in grades 1-8
When | 7p - 8:30p (1st & 3rd Wednesdays of each month, September - May)
Where | Downstairs Fellowship Hall
This year's theme, centered around 1 John 3:1, is entitled "LOVED." Please join us for a wonderful year!
Our greatest desire is to be loved (Proverbs 19:22). And if we miss the glorious truth that we are already loved by God, we'll hold our emptiness up to something or someone else to fill us. Girls today often look for love, worth, and acceptance in places culture tells them to: Appearances, emotions, experiences, performance, personality, possessions, popularity, or social media. These things can leave girls feeling emptier than ever, and they miss the Truth that they are already unconditionally LOVED. by God.
Cadets
Then you will call on me and come and pray to me, and I will listen to you. — Jeremiah 29:12
Who | Boys in grades 1-8
When | 7p - 8:30p (1st & 3rd Wednesdays of each month, September - May)
Where | Downstairs Fellowship Hall
The Cadets this year have been looking at how and why they can come to God in prayer. Prayer — it's a complex act, but still so simple. A two-way communication between God, creator of all, and us, mere humans. A dialogue between heaven and earth, in the form of a chat between friends. Daring to come before the Almighty King, yet doing so like contacting your father. Sometimes we don't know what to say, so we start with a simple, "Hi God, it's me."
We have special activities planned throughout the year; the Illiana Council Campout, Christmas party, and a Pinewood Derby race.
Cadeting is an outgrowth of a boy's organization known as the "Christian Boys Club League" which began in the early 1950's. The Calvinist Cadet Corps was actually formed when the name and first constitution were adopted on October 16, 1952. The goal of the Calvinist Cadet Corps is to help boys grow spiritually in areas of life, (devotional, mental, physical and social) by providing Christian men with a uniquely designed structure, program and materials.
Club Website | https://www.calvinistcadets.org/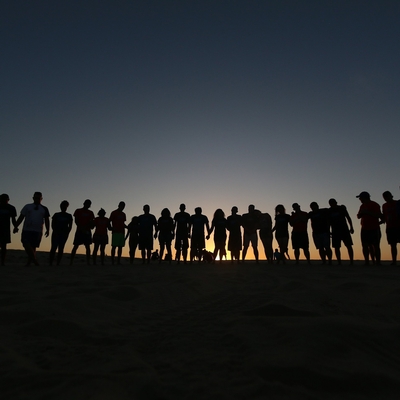 Young People's Society
Who | High school students
When | 6:15p - 8:15p (1st & 3rd Sundays of each month, September - May)
Where | First Christian Reformed Church